"Experts in Finance Solutions"
Our Know-how  – your success.
agentes group is an innovative, reliable and cooperative IT-service provider in the financial sector, based in München.  Our expertise in banking and insurance, coupled with our long-standing experience ensures quality in projects all the way from conception to implementation and delivery.
Concentrated as one brand "agentes", agentes services GmbH and agentes solutions GmbH develop sophisticated solutions for their customers and serve as partners who offer integrated advice. agentes service GmbH is in charge of the consulting division as well as of all provisions of service as for agentes solutions GmbH holds all products and solutions.
We stand for the best possible quality and performance related leadership. Our long-term partnerships with customers are based on the teamwork-focus and networking orientation of our highly-qualified employees.
The result of this is a flow of new ideas and innovative projects, and our customers experiencing significantly optimised business processes. No matter if it's a replacement of old applications, or consulting in complex IT-projects – you can count on agentes!
We offer a wide range of standard solutions which rise to your challenges. And, furthermore, we are ready to develop individual solutions, to meet the needs of your company.
Fair, Innovative, Transparent and Reliable!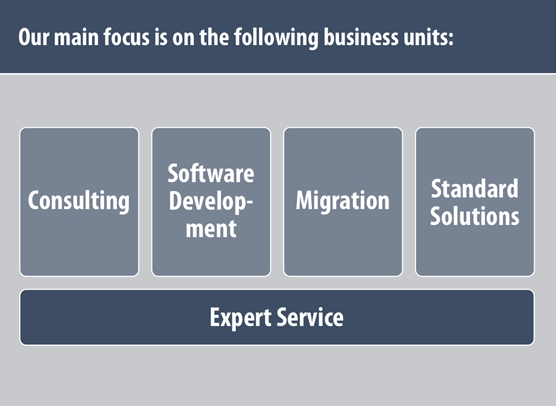 facts and figures
Established: April 1, 2011
Locations: Stuttgart, Munich, Frankfurt, Kassel and Cologne
Type of Business: limited corporation with headquarters in Munich
CEO: Peter Sobczak, Dr. Raimund Wiedemann
Shareholders: Peter Sobczak, Dr. Raimund Wiedemann
Employees: 100
Main Focus: Consulting, Software Development, Migration, Standard Solutions